Winter Gardening Tips
Well, it happened. Summer actually ended, and we're steadily on our way toward winter. This week at Petaluma Bounty we're harvesting the last few of the tomatoes – a process that takes 5 times as long to get a small fraction of the fruit as we search up and down rows of decomposing plants.
We've got some exciting fall crops in the ground – new successions of kale that look better than the summer kale ever did, week-old arugula that we seeded directly in the ground both in our hoop house and outside, spinach (which we haven't grown since spring), and small successions of radishes that we'll keep sowing again and again through November.
What are you all working on in your gardens? Are you thinking about winter crops? Today, I wanted to share my thoughts on the best way to extend the growing season so that you'll have fresh food to eat through the winter. Below are my top 3 winter gardening tips, enjoy!
Winter Gardening Tips #1: Build a Greenhouse!
Last year I wrote an extensive post on how to build a low-tunnel greenhouse, and I'll be building another one or two this year as well. That layer of plastic can warm the air just enough to provide a nice warm microclimate for your crops, and the protection from wind and frost will allow your crops to keep producing much longer than they would outside.
There are many benefits to this model of greenhouse: the materials are cheap, almost anyone can build it on their own or with just one helper (hey, I did!), and it's easy to move and take down. But there are many other models of greenhouses out there to choose from, and if you have a little wiggle room in either the budget, skill set needed, or relative permanence, the sky is the limit for you. Here is one method that seems interesting to me – a step up (or 5) up from the low tunnel concept. Try it out and let us know what you think! (Please click link to view).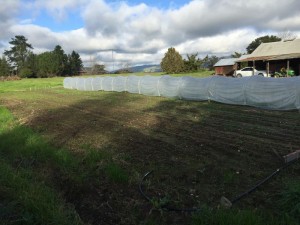 Winter Gardening Tips #2: Grow Indoors In Trays
The perfect solution for those without any outdoor space, in a super cold micro-climate, or for those determined to cover crop every inch of their garden to give it a rest, windowsill gardens can work well for many of us.
There are many crops that thrive in indoor gardens. Think of quick, tasty greens, tender young radishes, and other quick-to-grow, shallow-rooted crops. The first step is to find your ideal location (somewhere sunny and kind of out of the way but easy to reach with a watering can), and some appropriate containers. Think outside the box when looking for good windowsill containers. As long as it will maintain its structure while wet, has good drainage holes, and it at least 4-6″ deep, it will do the trick.
Choose an assortment of seeds that you want to try out. I recommend arugula, spinach, radishes, and Asian greens. Sprinkle them on the surface of your nutrient-rich, well-draining soil medium and keep moist by frequent waterings until they germinate. At that point, decrease your waterings to a good sprinkle once a day or so.
For more windowsill crop options, check out our past post on Growing Microgreens Indoors (click for link). These crops are great for winter because they're nutrient-dense, easy to grow, and don't take up a lot of space! Add them to salads, smoothies, or simply enjoy them as a quick leafy snack.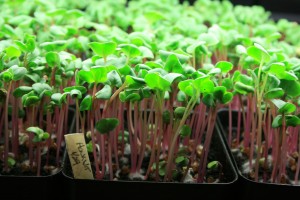 Winter Gardening Tips #3: Plant Your Garden Before Hard Frosts Hits
Many farmers and gardeners in the North Bay have excellent luck growing food outside all winter long. Of course, many factors are at play so if you're in a particularly low or cold spot during a particularly cold or wet year, you could face some trouble and may need to shift course.
The key for many fall and winter crops in our area is to get them into the ground before it gets too cold out. This gives the roots a chance to grow deep and spread, anchoring the plant and helping to protect it against cold spells and other winter troubles.
At Petaluma Bounty, we just transplanted a ton of kale and lettuce, and seeded arugula, spinach, radishes and carrots in the ground. At my flower farm, B-Side, I just sowed a bunch of seeds in the ground and have more in trays in the greenhouse ready to be planted out soon. The idea with these hearty annual flowers it to get them rooted in the ground before winter hits and then watch them burst into bloom in the early spring (way before spring-sown crops will be actively flowering).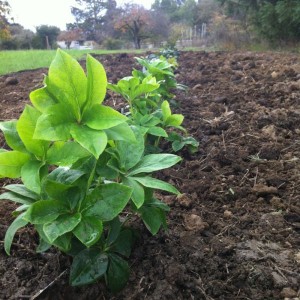 If severe cold is coming on or if you want to try your luck with more tender crops, I'd highly recommend investing in some remay or agribon row cover. You can lay it on top of your crops (we do this with strawberry plants for a lot of the winter) or prop it up on hoops so it's not directly touching them. It works wonders for protecting against light frosts.
When in doubt, try it out! Next time on the blog we're back to the interviews, and we'll be chatting with local gardener, teacher, and writer Wendy Krupnick about her experiences working with Sonoma County gardeners for many years.
In the meantime, what are some of your favorite winter gardening tips that keep your crops going all year around?