If you have any questions or want to know whether your green and tree debris is OK for us to take, please give us a call first.
707-575-7275
Drop-off Hours:
Monday- Friday 7:00am – 4:00pm
Saturday 7:00am – 2:30pm
We Do Not Accept:
Metal
Lumber
Dirt
Root balls
Rocks
Concrete
Bamboo
Garbage
Plastic
Stumps
Straw
Poison Oak/Ivy
Sod
Palm
Pampas Grass
Flax
Material contaminated with fire retardant
Material that is fully burnt
Ash
Drop-off Fees:
Yard Debris: $22.00/yard (i.e. yard debris, agricultural debris, vegetative cuttings, shrubs, brushes, grasses, tree trimmings, prunings, and untreated forest debris).
Woody Tree Material: $19.00/yard
Tree Debris with logs/rounds $27.00 per cubic yard – Logs/rounds defined by anything over 12" with a maximum of 24" accepted.
Log/Round Loads $40.00 per cubic yard

Maximum diameter 24"
Maximum length 48"
$20.00 minimum per load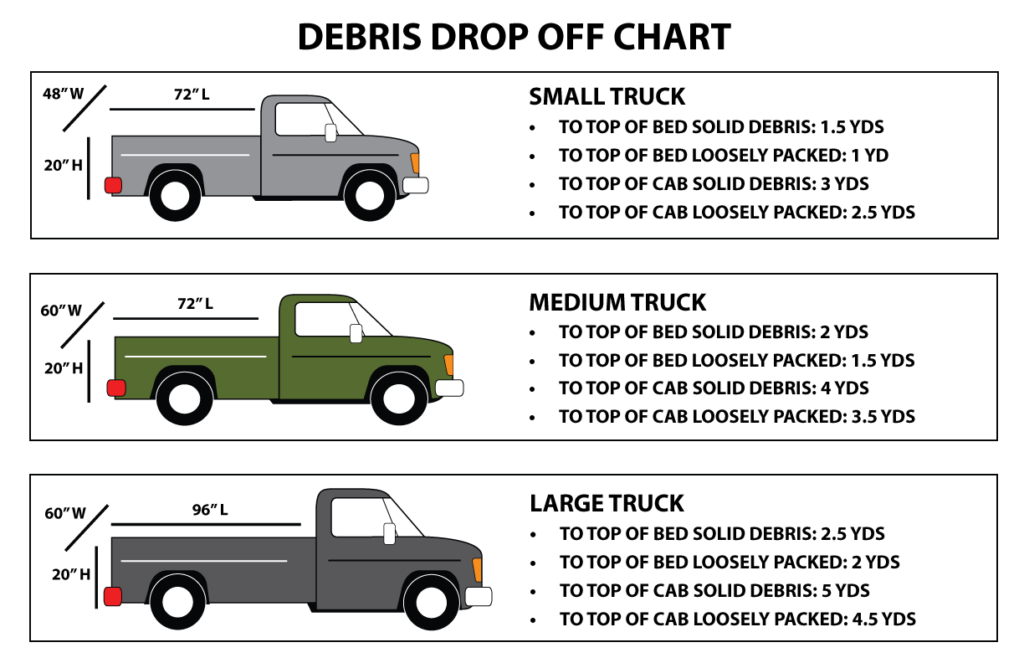 If you have clean concrete or rock that needs to be dropped off, please visit our Cotati location, Stony Point Rock Quarry. You can also visit our Sonoma location, Soils Plus for concrete drop off. Please click on the links to visit each respective website for their drop off hours and guidelines.
If you have material that doesn't conform to these guidelines, please call the following companies to see if they can take it:
Industrial Carting: 707-585-0511
Redwood Landfill and Recycling Center: 415-408-9052
Recycling Program
Being environmentally conscious isn't just something we like to talk about, it's something we practice every single day, which is why Grab N' Grow continues to recycle over 80,000 cubic yards of organic materials each year. 30,000 yards of that is green debris, brought to us by residents, landscaping companies, and tree services from all over Sonoma County. The other 50,000 yards comes from agricultural products, including grape pomace from wineries, apple pomace from canneries, cow manure from dairies and horse manures from ranches.
We are committed to producing the highest quality recycled green waste materials available. In order to do this, we have to be very particular about what green debris items Grab N' Grow will accept for recycling. The material that customers bring in to our yard leaves as a part of a soil mix, compost or ground cover, so please take a few minutes and read our rules and regulations below on yard debris drop-off at Grab N' Grow.
Some of our customers ask, "Why is there a fee for recycling brush?" When you look at the whole process of recycling materials it makes sense. Recycling costs money. There's the labor of moving, separating, grinding, composting, mixing, and screening. Then there's the cost of fuel for running the loaders, grinders, and screeners. We also need to maintain the machines to ensure they operate as efficiently as possible. All in all, this is a costly endeavor, but it's one we feel strongly about.