There's so much to do on a farm in the fall. There's the harvesting of remaining summer crops, coaxing of younger fall crops, ripping out spent crops, composting and preparing new ground, and, if you're lucky, taking the time to sow and transplant new things for spring.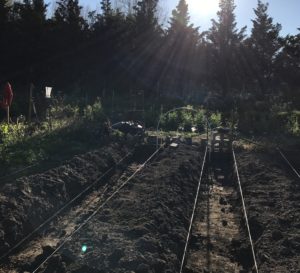 Over at my little flower farm, I'm usually very behind the ball come autumn. I'm exhausted from the summer, determined to continue bringing in cash by selling every last stem (at the expense of getting other projects done), and the farm has become such a jumbled mess from summer neglect that seeing clearly to necessary farm projects becomes nearly impossible.
And then this year we got an insanely early hard frost (October 11th), in addition to fallout from the fires (an ash-strewn field, a week of work lost from avoiding smoke exposure, and, the loss of wind from my sails as we all worried about our community). After all that, I returned to my field and realized that it was time to put it all to bed for the winter.
We jumped into gear with the process of 'turning over' my smaller field. What this means for my farm is digging and ripping out the old crops, amending the soil with compost and minerals, cultivating, and then raking out pristine beds that are ready to be either filled with new transplants right now or left and covered for winter to be planted in early spring.
Let's take a closer look at the elements of this process.
Compost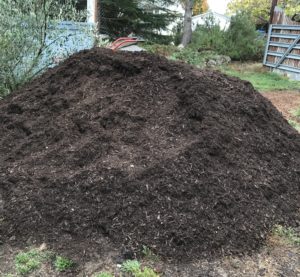 I highly recommend getting a few yards of compost delivered to your house / garden / farm and then tarping it and using it as needed throughout the fall and into winter. This isn't an area to skimp. I had 8 yards delivered to my farm and we have steadily incorporated it into my smaller field throughout the past week (and our knees and wheelbarrows are only a little worse for the wear!). If you buy it, you'll use it. And chances are, your garden will thank you. We shoveled and dumped out a 1″-2" layer over all garden beds, and then amended with some minerals as indicated in our soil test.
Cultivation
My farm is finally what's referred to as 'no-till' – in that we no longer use mechanical cultivation. While this is a lot of work on any good-sized field, the soil will really thank me for it as it's no longer getting pulverized by machines (check out Caiti of Red H Farm's great thoughts on this). We instead use either a digging fork or a broad fork to incorporate air into the soil, break up huge clods and any hard soil layer that's formed under the surface, and to mix in the compost and amendments.
Raking and Raising The Beds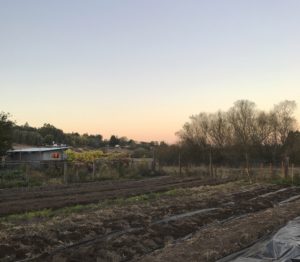 My field has a real drainage issue, making winter plantings highly susceptible to rot. To combat this we've worked on both building the soil and forming raised beds with sunken pathways where water can collect and hopefully drain down. While we use shovels for the initial steps, an old metal garden rake really comes in handy in the final stages. After the soil has been amended and forked, we re-shape and smooth out the beds with rakes, careful to try to save any soil that has eroded off the bed into the pathways.
I hope this gives you a quick overview on one way to get a garden ready for winter. Follow along as I plant some spring crops including ranunculus, anemones, foxglove, and campanula into my newly prepared field. Thanks for reading.