People often wonder what farmers do in the winter. Let me tell you, while the cold months are undeniably a lot slower than the dog days of summer or the insane pace of late spring, there's still a lot to get done. Winter is actually one of the most important times of the year for farmers because it offers a chance to reflect on the season past, and hone our plans for the New Year.  My days this winter will be spent pouring over data from last year, calculating yields and projecting sales, researching new varieties, ordering seeds, and mapping out fields.
So today I'll give you all a taste of the first part of this process – reviewing last season, deciding what to plant, and ordering seeds for B-Side Flower Farm. So much of this information can be applied to your own gardens at home. Reflecting on your successes and downfalls from this past year will only help you prepare for an even better gardening experience next spring.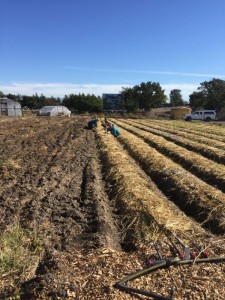 What farmers do in the winter: take a close look at last season
I like to spend the last month or two of the year going over last seasons' notes and answering a set of questions that I refine each year:
What grew well?
What did I need more of?
What did I have too much of?
What crops did my customers (in my case, florists) ask me for?
I go through field notes, look through pictures, and break down and add up invoices to assess the season's ebbs and flows. It's important for me to attach real numbers and dollars to my vague memories of the season's crops before they fade away all together. All successful farmers will tell you this – note taking is key and your notes will prove to be your biggest asset in planning for upcoming seasons. When you planted, how much, when the first harvest was, and when the crop petered out are some of the most important things to note. Follow this with cultural information:
Did your plants get enough water?
Could you change things about the irrigation?
Did you notice any disease?
Anything else to note either in the success or failure category?
Where records fail and leave holes, sometime I just walk the farm. Once I'm out there, I can easily go back in time to the height of the growing season. Some crops performed really well, but I grew too much of them. For example, the north end of my biggest field held a 110 ft-long bed of bright pink dianthus that proved to be way too much, almost an eyesore. This is a result of overcompensating from the year before. In 2014, I was churning out bouquets for farmers markets and grocery stores – and this bright, cheery flower saved my butt on more than one occasion. So, for 2015 I overplanted and had to practically force the dianthus on my poor customers – not a savvy business move. On the vegetable front, I scaled down on leafy greens this year and boy was that a mistake. Kale is such a great crop for a small farm to grow in abundance because it can be left on the plant for weeks without harvesting if need be. Next year, I'll increase the numbers once more.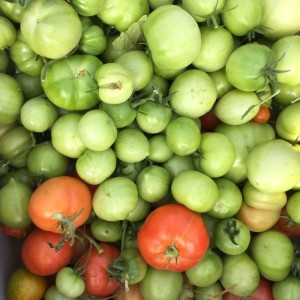 Then there are other crops that were utter failures that I will either not grow again or only grow after massive soil work and research (lupine and lisianthus and delphinium on the flower end, endive and interesting herbs on the other end). I note all of this and try to adjust the numbers for next year based on what I wish I had had more or less of this season.
The moral of the story is that winter is the perfect time to review your crop notebook and reflect on what you will do differently or double-down on next season. My advice is always take notes, even if you're just planting a few raised beds or a couple potted plants on your back porch. There is always room to hone your growing and planning skills.
What farmers do in the winter: research
Where do you all turn for advice on what to grow? My list of flower resources grows day by day, but relies heavily on a few vetted sources. I tend to compile a list of new flower varieties I want to try and the dive into the literature, cross-referencing variety trials with anecdotal evidence and first-hand accounts from other growers. I so look forward to December and January when I can just dive into the information, highlight, take notes, and make plans.
I usually start with my flower bible, Specialty Cut Flowers by Armitage and Judy Laushman. I then log into my account with the Association of Specialty Cut Flower Growers – they have a super informative online message board archive where growers have asked and answered all sorts of questions about different flowers. For both flowers and vegetables, I turn to back issues of Growing For Market, a magazine I highly recommend to any of you growing, well, anything. Chances are that each issue will touch on some new way of growing a crop you've been wanting to try out. Continuing on the vegetable front, I always consult my alma mater – the Center for Agroecology and Sustainable Food Systems, because everything they put out is gold.
What farmers do in the winter: order seeds
I've never been one for self-control. This proves problematic when sitting at a table in the gray days of January with a river of shiny seed catalogues sprawled out in front of me. I'm tempted to order everything. Foxglove? First-year-flowering long-stemmed APRICOT foxglove? Sign me up! Muted salmon scabiosa-flowering zinnias that are quick to flower and known for being mildew resistant? I'll need three, no TEN packets of those. And so on and so forth, until before I know it, I've spent $3k on enough seeds for a 5-acre farm when I've only got one acre to grow on. That's when I go back through and refine my order – lessening the number of seeds for crops that are new and experimental to me, removing redundancies, and becoming realistic.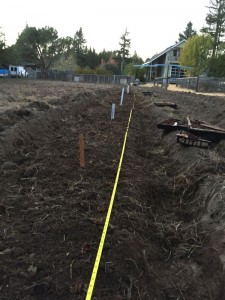 There are so many great seed companies out there for both farmers and gardeners. Baker Creek right here in Petaluma carries all heirloom varieties of both flowers and vegetables. Johnny's in Maine carries proven varieties that are known for being super productive and consistent. Geoseed offers bulk quantities of almost all the flowers you could hope to grow at astoundingly low prices. If I can't find the seeds I'm looking for with one of my trusted sources, I'll just search around until I find a website that carries it. Usually I'll give an unknown company a chance and see how the crop performs, then order from them again if I'm pleased.
The Next Phase—Stay Tuned!
By late January most of my seeds will have arrived and my coffee table and desk will be covered in packets and bags of everything from tiny round sweet pea seeds to bulky potato-like dahlia tubers. It's a lovely disaster.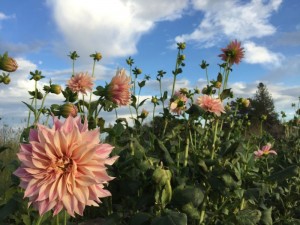 Next time on the blog we'll talk about more about a farmer's winter work – starting seeds, ordering supplies, testing the soil and drafting field maps. But for now, it's back to my spreadsheets!