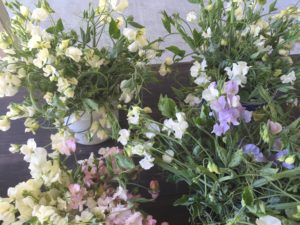 Flowers are so nostalgic for most of us, and it seems Mother's Day comes up every year when all the sweet local spring flowers are at the height of their bloom! If you're looking for something special for a mom in your life, this year why not surprise her with some flowers that will take her back to gardening with her mom and her mom before that? Here are my top 5 favorite flowers blooming this Mother's Day.
Ranunculus
This has to be the most requested flower from newly engaged brides, and their moms are catching on too. The beauty of ranunculus is that as the petals keep opening, throughout a miraculous two weeks of vase life, they take on an even more interesting character. I'm particularly drawn to the peaches and apricots this season. They won't be blooming for much longer, so it's time to savor them now!
Anemones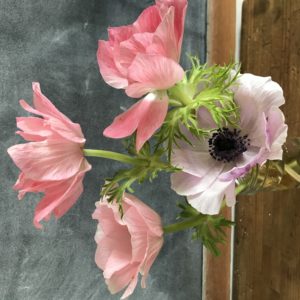 What's more dramatic than a black-eyed, white anemone? They're so beautiful tucked into mixed arrangements, but truly they make enough of a statement on their own in a vase. They bloom in the cool of spring, though with all of our local micro-climates, we're lucky to have a few still coming out of local farms and gardens into mid-May. Snatch them up while you still can!
Sweet Peas
Local sweet peas started blooming a few weeks ago, as evidenced by the sweet scent in the air around the north bay. They really do come in every color of the rainbow, but the white ones do it for me every time. If mom likes sweet peas, why not gift her with a bundle of stems along with a seed packet or two that she can plant this fall for blooms next spring?
Peonies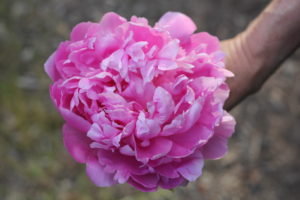 Know as the darling of the south, some people (yours truly included) are on a mission to prove that peonies can be grown successfully here in Northern California. Some of my favorite early-blooming varieties are both Coral Charm and Coral Sunrise, as well as the highly-coveted Etched Salmon. Hint: if you haven't had great success growing peonies in our mild climate, try planting them more shallow to the surface! It should help them bloom.
Garden Roses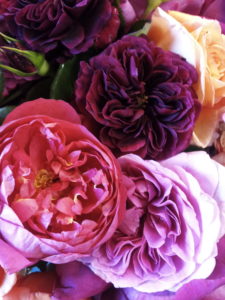 I now associate May completely with garden roses. Driving around Sonoma County right now is truly a feast for the senses. The climbing roses tend to start first, and I'm sure we all have certain neighbors whose gardens we creep on weekly and even daily, waiting for that first glimpse of an open rose bud from across the fence. The huge, wandering Sally Holmes is one of my all-time favorites.
I hope you all have a fabulous mother's day! There are still a few spots left in my Mother's Day flower picking and design workshop out at my farm in Sebastopol. Below is the link if you want to check it out, and additionally, here's a calendar of other happenings around town. Have fun!
B-Side Farm Mother's Day Workshop