Late Summer Garden Maintenance
Throughout the growing season, there are countless little decisions to make in the garden. Some come easily: this kale plant is covered in aphids to the point of no return, so I'm going to yank it to keep the critters from spreading. But there are so many other times when I just have to make an educated guess and hope for the best. Let the onions cure for longer in the field and it will save you work now, but there's the potential for rain so better get them inside into the storage shed (as long as there are no mice in there waiting to chomp away). Plant out those gladiolus bulbs even though it's a bit late and the frost could hit them, or store them in a box for another year, where they're likely to shrivel and not survive till spring.
The answers to these everyday gardening questions depend on not just your gardening know-how, but your specific microclimate, soil type, water availability, and time and flexibility in your schedule to get in the garden. At this time of year when the days are still hot but fall and potential frosts are on the horizon, you have more summer squash and tomatoes then you know what to do with, and you're a bit sick and tired of dealing with a lot of garden upkeep (not that this farmer is projecting). If you're anything like me, you're moving a little slower, the summer's bounty and aftermath of weeds and plant debris lingers a little longer than usual, and your plans for a fall garden get pushed to the end of the priority list.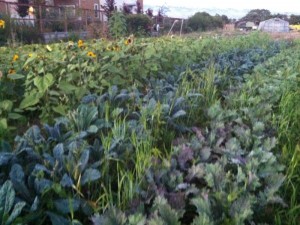 Well, fear not. I'm here to help you establish some priorities, some must-do's, and to help you find your focus in the garden again as the seasons get ready to shift. Follow these steps at a minimum, and you can rest at ease.
Tackle The Weeds
If your garden is like mine, you have grown great weeds this summer alongside all your intentional crops. My approach to weeds changes at this time of year, and I'm going to invite you to change yours, as well. During the early summer months, I am hula hoeing, hand weeding, and doing everything I can to keep young weeds at bay and to give my crops a headstart.  Once my crops are bigger than the weeds and shading them out, I slow down on the weeding. In some cases, if a crop is nearing its end and I know I'll be pulling the entire plant out of the ground soon, I'll just let the weeds grow and plan to pull them out with the crop.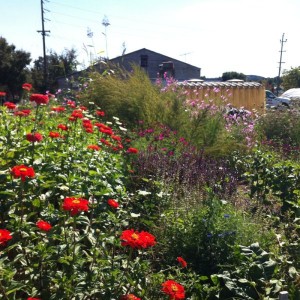 Now, sometimes they get out of hand. I have weeds taller than my head that have long since set seeds that are blowing in the breeze and settling in all over my garden. So be it.  (This is not the blog post for the ultra-perfectionist!).  Some of these I will pull out by hand. But some I will mow down to the ground and then just till into the ground with the soil (or even fork them in by hand, in a smaller garden bed). Is this best practice for weed management? No. But it's what any larger-scale farm would do, and it's a good way to quickly and efficiently clean up the garden.
Compost: The Best Tool for Late Summer Garden Maintenance
We've talked about the value of compost and how to make it on a small scale at home. Anytime you are pulling one crop out of the garden, it's a good idea to spread about 1 – 3" of compost on top of your soil and fork it in to at least the top layer of ground. If you're taking crops out now and aren't even sure yet what you'll do with that garden space (cover crop it? Grow more crops? Let it lie fallow?), add compost anyways!
Work Your Soil Now, Save Time Come Spring
I have three areas in my fields at B-Side Flower Farm. The first is the part of the field that I will cover crop over the winter (check out our past blog post on cover cropping for some great tips). The second is the section that I will sow seeds or grow transplants to overwinter. And the third is the section that I know I will want to grow in come early spring, but chances are the soil will be too wet and heavy to get in there at that point and do proper soil cultivation. So, to avoid that scenario I'm going to prepare the soil now. That means I'll take out any weeds and spent crops, add in compost, and fork the top 12″ or so. Then I'll cover it completely with a layer of cardboard under a heavy layer of straw. The idea is that the soil will stay fresh, workable and light, and come March or so I can simply remove all that material and plant right into the ground with either seeds or transplants. What would normally be a muddy, compacted disaster of a planting area, will be just perfect come spring.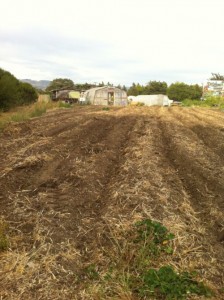 Glean The Food, Then Call It A Day
How many of you find yourselves with a free Sunday in September and want to get out there and get a jump start on cleaning up the garden, but your summer crops like tomatoes and zucchini are still producing like mad? Well, a large part of proper late summer garden maintenance is being real with your garden. So I encourage you to think of how much more your household can realistically eat, and if time is starting to run out then bite the bullet and glean the final food off your plants. Bring it into the house, cook up a feast, can and preserve what you can, and donate the rest. Our website at Petaluma Bounty has some great information on where to donate excess food. Now I'm not saying to pull out your plants when they're at their peak and your mouth is still watering over them, but I am giving you the go-ahead to take advantage of free time while you have it, and not try to extend summer indefinitely, for all good things must end.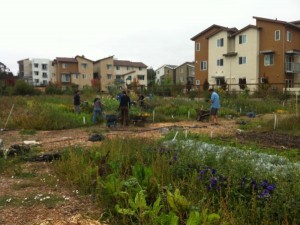 And with that, I wish you a happy transition out of summer. Set aside a few days or little chunks of time to get out there and perform these late summer garden maintenance tasks. Your soil, and your gardening self months down the road, will thank you.  Next time on the blog we'll be talking about fall gardens – what, when, and how to grow into winter. Until then, get out there!