With the month of March comes the beauty of an extended day. Are any of you out there as thrilled about daylight savings as I am? I've been so busy this past month running from one farm to another, trying to use all available daylight to weed, thin, and get my fields in working order for spring that I've had to resort to flashlight gardening a few times. But now, as of about a week ago, it's suddenly not dark until almost 7:30pm! I have been telling myself that there's no excuse to leave tasks undone in the garden with all this daylight time. My days have been ending with a great sense of accomplishment, and it's glorious. So, get the tools out of the shed, dust 'em off, and enjoy these early spring days in the garden with me!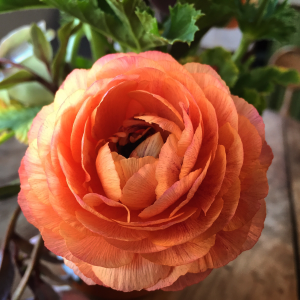 This week on the blog, we're going to start thinking about what spring seeds to sow in your garden. It's important to wait for your soil to really dry down from winter rains before you work with it–otherwise you're in danger of squashing out the air space (what we call 'compaction'). If muddy soil sticks to your feet and tools, and the ground feels soft and squishy underfoot, wait a little longer. You're really not helping your plants and their fragile root systems by asking them to live in a muddy, airless environment. If you have transplants that are getting big in their pots, carefully transplant them into bigger pots! Their roots will appreciate the extra room to grow.
I've done this with every crop you can imagine – all in the name of being flexible with this unpredictable early spring weather and taking a plant-centric approach to your garden. They'll thank you for it.
Once the soil dries out, it's a great time to add in compost. Whether you make it, buy it in, or do a little of both, just work it into the soil carefully and plant your favorite seeds to sow in spring.
Below are some of my favorite crops sow and transplant during this time of year. Do you have any favorites not listed here? Share with us in the comment section below and help your fellow Sonoma County gardeners.
| | | | |
| --- | --- | --- | --- |
| Month | Start Seeds Indoors | Start Seeds in the Ground | Transplant |
| March | tomatoes, peppers, eggplants, onions, kale, lettuce | spinach, carrots, asian greens, | lettuce, peas, leeks, cabbage, broccoli, leeks |
| April | leeks, basil, cucumbers | radishes, beets, cilantro, potatoes | onions, kale, chard |
| May | chard, basil, lettuce | beans, corn, melons, pumpkins | tomatoes, peppers, cucumbers, eggplant |
March is a great month to start hot weathered crop seeds in the greenhouse and get cool weather transplants into the ground or garden bed. Don't forget, we learned how to build a low tunnel greenhouse at home back in December!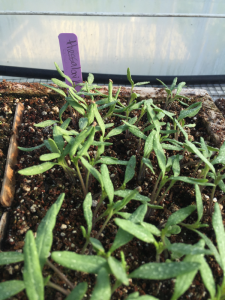 Let's take a closer look at some of my favorite seeds to sow in spring:
Solanums Seeds (nightshades): Tomatoes, Peppers, and Eggplant seeds need to be started this early in the season if you hope to get summer fruit off of them. They're the first thing I sow at Petaluma Bounty each season (this year they were sown on March 11th). They can be sown very close together in a flat or tray, or in their own small cells. They need to be covered lightly with soil mix, and kept moist until they germinate (4 – 12 days, usually). These seeds germinate better and more quickly with a little more heat so many farmers will set them right on a 70 degree heat mat until they have grown a set of leaves or two. At that point, about 4 or 5 weeks in, you should pot them into bigger containers. I usually bump them up them into 4″ pots, grow them on in the greenhouse, and then transplant them into the ground in the first week of May.
Kale, Lettuce Seeds: These plants grow easily from seed, and can be sown in the greenhouse or on a windowsill in any size tray you have available. They don't need any heat, but should be covered with a thin layer of soil mix and kept moist until they're ready to be transplanted out into the garden, about 5 weeks after sowing.
Spinach, Carrots, Asian Greens Seeds: While these plants all have slightly different growing requirements and lifespans (carrots take seemingly forever to grow), they are share the ability to grow easily from seed in the cool spring soil. Sow them more densely than you need to, knowing that you can come back and thin later, cover lightly with soil, and keep moist.
Other garden transplants: Mostly anything you see for sale at your local garden center can be transplanted in your soil as soon as it dries out. You can expect to see lettuce, peas, leeks, cabbage, broccoli, or leeks to name a few. If you see a hot weather crop (solanums, etc) on display don't be fooled, wait until your ground warms up in late April to transplant these guys into the ground or garden bed. But for any of the above mentioned cool weather crops or their relatives, go ahead and try them out. The risk with getting anything in the ground this early is that there is always the risk of erratic weather and rains, but many of these crops can handle it. When in doubt, keep it in a pot!
Suggestions for new gardeners and  seeds to sow in spring:
Whether you're starting seeds in trays or in the garden, the same general rules apply. First of all, you need fine soil or mix, nothing too chunky. Think small particles. Secondly, you want to keep the soil surface around the seed consistently moist until germination, which can take anywhere from 3 – 10 days for most vegetables. You don't want to over-saturate the soil, but water or mist it lightly a few times a day.
Try container gardening. You can grow shallow-rooted crops (greens) in window boxes and more deeply-rooted crops (tomatoes, peppers) in 5 and 10 gallon pots. The sky is the limit in options for containers – just make sure there are holes for drainage at the bottom, and make sure the soil mix you use is nice and chunky to promote drainage.
Don't over-plant! Think about how much a given plant can produce, and how much you and your family can actually eat. Keep it small and simple at first.
Wait until the weather is consistently warm and don't plant too early – think about the temperature of the soil and what will be a nice environment for your fragile plants.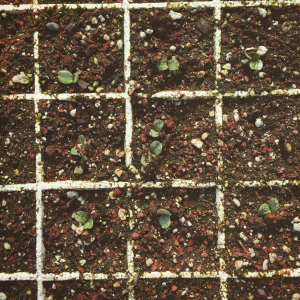 Next time on the blog we'll be talking with Jordan Thompson of Heidrun Meadery about the importance of bees in the garden and her unique job of creating habitat for tons and tons of bees. It'll bee a real treat! Until then, what topics would you like to see us cover on the blog this season? Let us know in the comment section below and enjoy this beautiful weekend!