Nothing says 'I Love You' like local, fresh, fragrant flowers that support sustainable farms, the local economy, fair labor practices, and small (often women-run) businesses. I can't begin to express how excited I am that the classic (tight, sterile, odorless, lipstick-colored) red rose is finally going out of vogue. With almost 80% of flowers bought in the US coming from as far as Ecuador, Colombia, and other countries across the globe, we need to do everything we can to start thinking local again when it comes to cut flowers.
Even in our fairly warm climate, it's tough to find local farms that have abundant blooms in the winter when everybody wants flowers for Valentine's Day. Small flower farms like mine focus on growing an abundance of spring flowers but still don't have the infrastructure (read: large greenhouses) set up to have lots blooming in early winter.
But fear not! Here are four of my favorite flowers that can often be found blooming in our area for Valentine's Day. There's no reason to leave your sweetheart empty-handed! Whether you're looking to buy some local flowers or plant some for next year, I've got you covered.
Foxglove
Foxglove never fail to instill that 'wow' factor. I should have some starting to bloom in just a few weeks that I planted in the ground last August. Foxglove are interesting in that they're actually biennials, meaning they'll bloom in the second year, but there are some varieties that bloom in the first year. Whichever one you're working with, you should plant it in the fall and reap the rewards of striking tall blooms next spring. I highly recommend 'Dalmation Peach' (a "FYF" or "first year flowering" variety), or "Apricot Beauty" (a true biennial). Get ready to be stunned. The Petaluma Seed Bank carries many stunning varieties.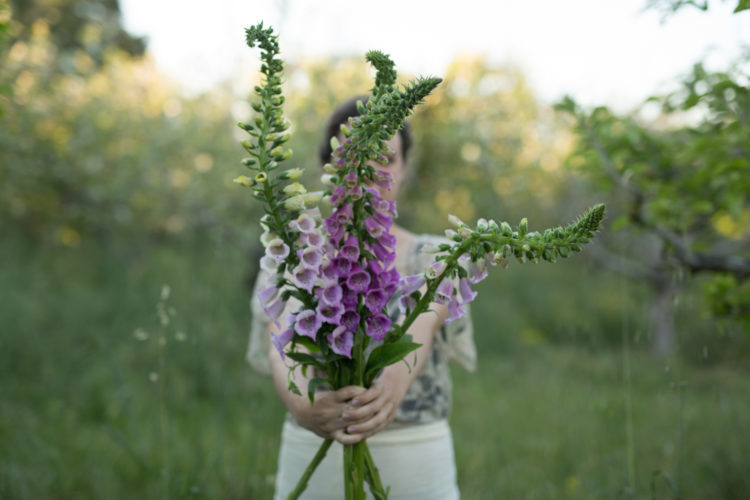 Anemones
I dare say anemones are my favorite flower. Last year was the first time that I had a great crop of them, and I truly attribute the success to the fact that I got them in the ground early enough the fall before. In some colder climates, people plant them in the spring (or fall plant them under layers and layers of row cover and plastic), but here in USDA zone 9B it's strongly recommended to plant in the fall. If so, they should start blooming in late January.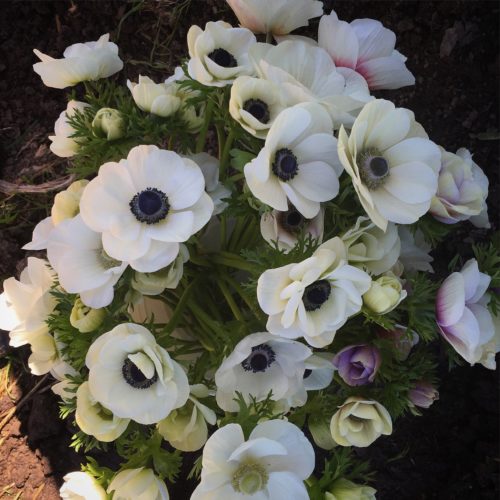 They do better with a little extra love. This past year I both pre-chilled and pre-sprouted mine, two tasks that helped to jumpstart their growth right before winter's chill came on. By the new year I saw just a few blooms and by March they were in full swing until the late spring heat came on. My favorite variety is the white with black eye. Their drama is unparalleled.
Ranunculus
The ranunculus craze seems to be here to stay! I kid you not when I say that just about every bride I work with asks about ranunculus when we brainstorm her wedding flowers. I hate to be the one to tell them that they only bloom locally in the spring and early summer.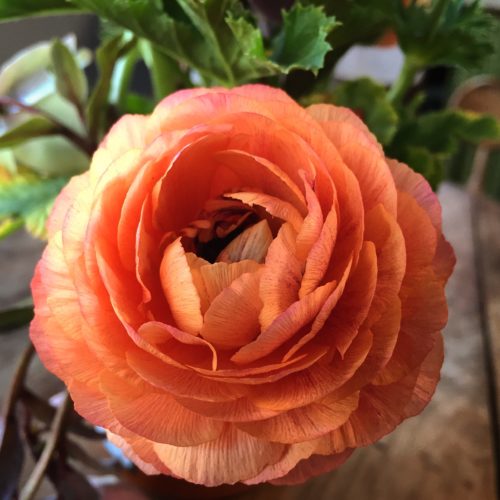 There's just something about their pillowy, marshmallow-soft blooms that are absolutely stunning. It's hard to describe how the many, seemingly million layers of petals come together to create an optical illusion. It's mesmerizing. They come in almost every color under the rainbow, and the earliest local ones should be popping up in February.
No more excuses, there are local flowers to be found in February, and they're gorgeous.