Grow Your Own: Asian Greens
It's time to get planting in the garden (unless your soil is still a bog like mine), and I highly recommend including tasty, nutritious Asian greens into your gardening plan for this year.
Asian greens like it fairly cool, but above all, they like it consistent. Many of these plants are especially sensitive to heat spikes, so it's best to wait until early summer (June) to transplant them into the garden, when the heat has stabilized a bit more. Now would be a perfect time to sow some seeds in the greenhouse, grow them on for six weeks, and aim for a June 1st transplant date.
My Favorite Asian Greens
Asian greens are a broad class of vegetable that spans many plant families. Here are some of my favorites, to give you a sense of how wide (and delicious) this type of green can be. Look out for them at some of your favorite seed companies, such as Baker Creek, Johnny's, or Renee's.
Flowering Broccolis

Varieties: Choy Sum, Gai Lon, Hon Tsai Tai
Mustards

Varieties: Red Leaf Mustard, Mustard Cabbage, Osaka Purple, Giant Red
Traditional Chinese Cabbages

Varieties: Blues, Kasumi, Orange Queen, Michihli
Drum-Headed Chinese Cabbages

Varieties: Chinese Cabbage, Napa Cabbage, Bok Choy, Wong Bok, Pe Tsai
Loose-Headed Chinese Cabbages

Varieties: Pak Choi, Joi Choi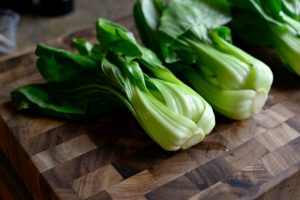 Nutritional Benefits of Asian Greens
I find cooking with Asian greens to be a unique way to get some new greenery into my diet, and there are so many great ways to cook them. From simple stir-fries to long-simmering soups and stocks, the sky is really the limit. These greens are all high is iron, phosphorus, potassium, calcium, and vitamins A and C.
Growing Asian Greens in 5 Easy Steps
Step 1: Sow Your Asian Green Seeds
Sow your seeds in a greenhouse, windowsill, you name it. Check out our handy seed starting guide that will walk you through the whole process.  You can also purchase starts that are ready to transplant if they are available at your local nursery. They'll generally be ready for transplanting about 5 weeks after sowing, or when they're about 4″ tall or have at least three sets of leaves.
Step 2: Prepare Your Soil
I've talked before about the importance of soil moisture and it's always something to consider before planting. Once you deem it ready, it's time to prepare your bed. Add in a layer of compost that is anywhere from one to three inches thick, depending on how much help you think your soil needs (we've talked before about soil biology, soil tests and what they can tell you). Asian greens have pretty insufficient root systems and therefore need a good source of balanced fertilizer.
After you've evenly spread compost over the top of your bed or box, work it into the top 6 inches of soil with a fork or trowel. This also gives you an opportunity to break up any huge clods that have formed or, in the case of my heavy adobe clay soil, any rock-like balls of soil that have formed over the winter. You want to break all of these up into a nice tilth.
Since they are shallow rooted, these greens will do well in the ground, raised beds, or even in pots – they're fairly adaptable. Plan to leave about 8″ of space between your greens.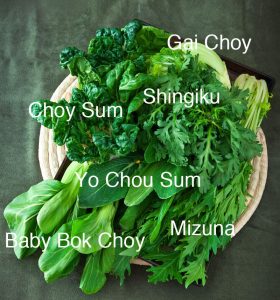 Step 3: Transplant Your Asian Greens
Now that your soil is ready, it's time to transplant. Early mornings, late evenings, or on a cool, overcast day are the best time to transplant new crops into your garden. No crop will thrive when their fragile roots are exposed to the elements, but greens are especially sensitive.
For best results when transplanting, give that area of your garden, window box or field a little water a few days prior. This is referred to as 'pre-irrigating' and ensures that your soil is moist (not soaked) and ready to host new plants.
Use a trowel, butter knife or simply your hand to dig a little hole in the soil, plop the transplant in, and cover up the base of the plant with soil. There's no need to use force in this process, just make sure to give the transplant a little push down to settle it in.
Step 4: Water Your Greens
Give your greens a good watering right after planting, and then come back every few days with your hose or watering can and give them a deep soaking. Once they start getting bigger, say after a few weeks, they'll need less frequent, deeper waterings. Depending on your soil type, this may mean two or four times per week.
Step 5: Harvest
Most types of Asian greens start reaching maturity about 40 – 70 days after transplanting. Always read the seed packet, consult a book, or reach out to the seed company to see how long before your greens are ready. When in doubt, taste them! Unless you're growing loose leaves that you hope to 'cut and come again' such as Mizuna, most of these greens are meant to be cut once and done. So to harvest, use a sharp knife or clippers and cut them just above the ground level.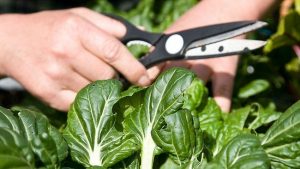 Next time on the blog we're getting head start on pest and animal control this year. You work hard to keep your garden thriving, so we'll be taking about way to identify which animal is attacking your crops and how to deter them. Until then, get gardening!
Additional Asian Greens Resources: Recipes
Once you harvest your delicious, nutritious Asian Greens try out some of these easy to make recipes.