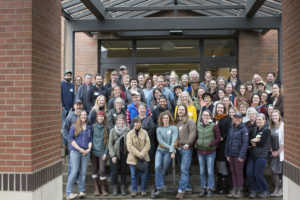 For the third year in a row, I had the opportunity to travel ten hours north to attend the Oregon Small Farms Conference and the Pacific Northwest Cut Flower Growers Meetup. It's one of my favorite weekends of the year and I wouldn't miss it for the world. Can you imagine a huge room of flower farmers? It's a sight to see.
Pacific Northwest Flower Farmers Meetup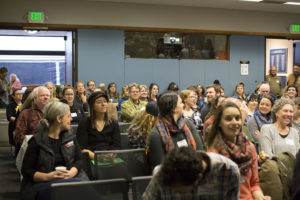 The Meetup, now in its fourth year, has just about tripled in size since the inaugural event. It's evolved with this growth and the shifting needs of the farmer community to feature both local and distant farmers on panels, Q&A's, and hands-on demonstrations.
This year's packed schedule began with a legend in flower farming, Ralph Thurston going deep into the evolution of Bindweed Farm in Idaho over its decades in business. I had never met Ralph or Jeriann before so this weekend was a real treat for me. As they move into the 'next phase' of their careers, one where they claim to be trying to slow down but really don't seem to be, we should feel pretty lucky that they're diving into their roles as educators.
Next up was Carly from Killing Frost Farm in Montana with a presentation and demonstration on bringing forest products into floral design. I've never met someone who both knows so much about responsible, legal, sustainable foraging, and is able to completely transform a space using elements from the woods that I would probably overlook.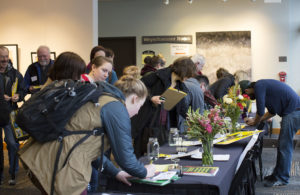 For her demonstration, she walked us through building a giant arch-like structure made from a frame of chicken wire filled with evergreen boughs, all sorts of branches, moss, and dried flowers. Her techniques were unique, ingenious, and scrappy, and the end result was unlike anything I've ever seen.
The meetup was lucky enough to also host Hillary Alger of Johnny's Seeds. I've told you all what great strides Johnny's has made in not only their cut flower selection over the past few years but also in the growing information and reference material around cut flowers. Hillary walked us through succession planting of lots of popular varieties, flashing slides of great data they've collected on the trials farm and photos illuminating their results. Also on the topic of successions, Leah Rodgers of Rockwood Urban Farm detailed the urban operation she runs with her husband on a few plots around Portland. On leased land, she incorporates a ton of cool perennials into her crop plan – something hard to get going on land you don't own! I was impressed.
The day ended with two panels running concurrently. One was a farmer panel featuring Tall Grass Farm, Rain Drop Farms, and Bindweed Farm, and the other a design panel. Since I was on the design panel I can't report back on what was going on next door! But our Q&A sessions featured many questions on bulk buckets for DIY weddings, contract provisions for full-service weddings, and questions on how to begin learning design skills. I'm pretty sure I came off as a Debbie Downer. When asked how to make bucket sales for DIY brides, my response: I don't. It's not worth it. When asked how to sell little arrangements to restaurants, my response: Do whatever you want to right now, because in a few years you'll probably feel that it's not worth it, because most restaurants won't pay what you need to make.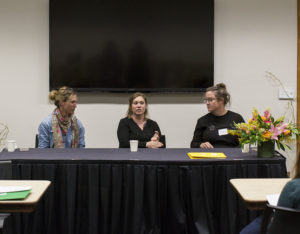 Luckily I was sharing the panel with Beth Syphers from Crowley House Farm and Jen Ladd from Sweet Posy, two cheerful optimists who were about to give great advice on how to make arrangements like this work for them. For now, my advice to newer growers was figure out how to do really well at the wholesale game, and/or to find retail outlets that really pay for the added value of design. Finding things that work the gray in-between area of these two types of sales just doesn't work for me, but more power to those who have figured it out for their market.
In any event, there's a lot to learn up in Oregon! Thank you so much to the PNW ASCFG members and non-members for showing us how regions can come together to share information and build community. Until next year!