This week on the blog we're talking about a topic very near and dear to my heart: growing flowers! I've been a full-time farmer for five years now, and only this year made the plunge to start B-Side Farm, my ¾ acre, one woman operation in Penngrove. Using tried-and-true principles of ecologically sound and sustainable growing, I raise over 50 varieties of flowers to sell to florists and designers, to use in mixed bouquets for local markets, and for my own design work as a 'farmer/florist' specializing in weddings and flower bouquet subscriptions.
Flower farming is grueling and breathtaking, messy and pristine. I would be hard pressed to find a career that contains such drastically disparate tasks as digging trenches in the dirt and arranging whimsical blossoms into vases with the color wheel in mind. And flowers do so much beyond bring the pretty. They're great food for pollinators, they attract beneficial insects to our gardens, and many are edible for bees and people alike.
For all the chefs out there, it's really fun to grow flowers that are edible in addition to being good to look at. Some of my favorite edible flowers are calendula, bachelor buttons, nasturtiums, pansies, chrysanthemums, and carnations.
Cutting flowers that I've nurtured from seed, bringing them into the house, and choosing stems to place in a vase is one of the great joys of my life. I'm here to share some tips on getting started with a cutting garden, so that you all out there can get in on the magic.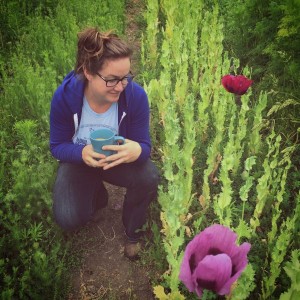 Build Your Soil for a Cutting Garden
Flowers demand many of the same things as vegetables. Your soil should be rich in organic matter, well-draining, loose and airy. You can accomplish many of these soil goals by cover cropping your garden in winter, applying and mixing in compost between planting every new crop, and amending your soil according to what a soil test tells you. Flowers can be a little finicky, and will appreciate a little TLC in the form of bone meal applications in the planting holes, and fish emulsion or another nitrogen-rich organic fertilizer applied as a foliar feed (sprayed on the leaves) every week or so until they start to flower. All of these extra steps will help to promote long straight stems, and robust plants that can ward off disease.
Many flowers, dare I say most flowers, can be grown successfully in pots. As with vegetable gardening, find a deep pot that has sufficient room to host the roots of whatever plant you're growing. When in doubt, go big – 4 or 5 gallons would be a great size.
Cut Flower Seed and Transplant Sources
Many, many flowers are easily grown from seed. My favorite flower seed sources are Sonoma County's own Swallowtail Seeds and Baker Creek, mail-order Geoseed, Harris Seeds, Ivy Garth, and Johnny's. For transplants, there is usually a good variety available at garden centers and nurseries. Just be sure to ask whether what you're buying is meant for cut flower production, or whether it's bred for bedding plants for the nursery and landscape industry. Plants grown for bedding are meant to be low-growing and will never produce long stems, no matter how well you treat your soil!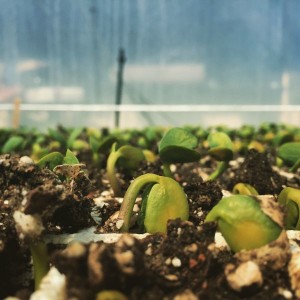 Hot Flowers vs. Cool Flowers for a Cutting Garden
Take the time to familiarize yourself with the array of flowers that will grow in the cooler ends of your season and the ones that will thrive in the heat. It's not worth trying to push it with these temperature preferences – believe me, I've tried. You'll get stressed flowers that bloom only a few inches off the ground, or tall plants with no blooms, or some other undesired effect. Flowers that are in the cool season plan for B-Side Farm, that is the ones that I either sowed early in the spring or once the summer's heat had passed, include: cerinthe, larkspur, bells of ireland, poppies, lupine, ammi majus (false queen anne's lace), hellebores (grown from transplants), and delphinium. Some of the heat-loving crops grown at B-Side (read: don't put these guys in the ground until the soil warms in May or June) include zinnias, dahlias, celosia, and basils.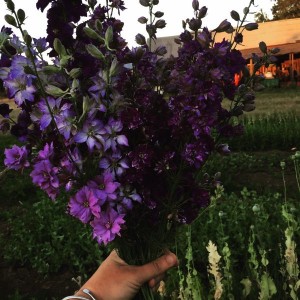 Criteria for cut flowers:
Long stems
Good vase life
Resists shedding (mostly)
Succession Planting in a Cutting Garden
It takes a bit of planning to have flowers to cut from all season long. The cut-flower season here in the North Bay can easily stretch from May through November, and you can attempt to extend it by building a low tunnel greenhouse. Some flowers will bloom for weeks and weeks. For these varieties you can get away with just one planting per season and have a good few months of flowers. Try zinnias, rudbeckia, marigolds, and basil.
Other flowers produce abundantly, but are best planted at least two or three times in order to get a good long harvest window. For these, try snapdragons, larkspur, and cerinthe (my favorite cool-season greenery this year).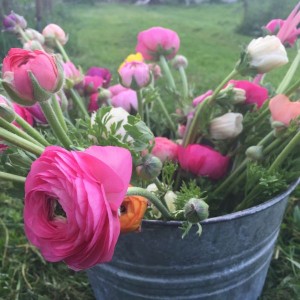 Then there's a whole other group of flowers that get cut once and that's it. These require planting every few weeks or so if you really want to harvest them continually, and include: single-stem sunflowers (branching ones have longer windows), bupleurum, stock, and carthamus. In order to have a long season of blooms without too much painful planning aim to sow these flowers about once a month.
Focal Flower, Filler, or Foliage?
What is a zinnia without flowering basil greenery (my favorite), or a rose without baby's breath (not my favorite)? I'm here to tell you – a flower that stands alone, well, stands alone. Plan your garden so that you have a good mix of big showy flowers – known as 'focal flowers.' These include a subjectively defined list of dahlias, zinnias, sunflowers, and snapdragons. But don't forget the ever-important 'filler flowers' – the smaller, less ostentatious, but absolutely essential and unique cast of characters that can include everything from agrostemma and bachelor buttons to columbine and flax seed. For greenery, if you're lucky enough to have native or planted borders around your house, then get cutting! For those of you with no shrubs, branches or tree to cut from, I recommend planting a whole host of annual greenery, such as basil, flax, cress, cerinthe, and bupleurum.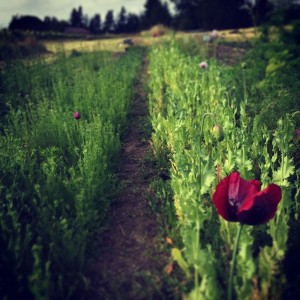 Annuals, Biennials, Perennials
The best flower cutting garden will bloom over a long season, create a diverse habitat for pollinators and beneficial insects, and necessitate different levels of attention at staggered times. To achieve this, it's a good idea to fill your garden with a good mix of perennials (flowers that bloom year after year), annuals (flowers that complete their life cycles in one year and therefore bloom just for a season), and even biennials (flowers that complete their life cycle, and therefore flower, in their second season). Some of my favorite perennial cut flowers include lavender, hellebores, mint, scented geraniums, peonies, feverfew, and yarrow. Annuals, my specialty at B-Side Farm, include so many ephemeral treasures such as larkspur, dahlias, flax, bupleurum, zinnias, cerinthe, and icelandic poppies, to name a few. In the biennial category, some of my favorites are columbine, foxglove, and sweet william.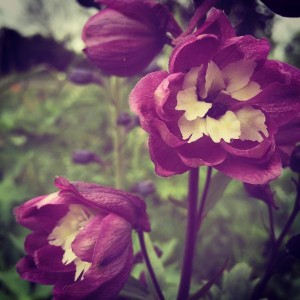 Would it Please the Bees?
As we learned from Jordan Thompson at Heidrun Meadery, some well-thought planning will ensure that our gardens can take care of both native and honey bees throughout an extended season. Some flowers that I love to grow at B-Side that make great cuts AND feed the bees include lavender, cosmos, rudbeckia, and scabiosa. Jordan is loving red buckwheat this season – it amazingly makes a great cut flower, is drought tolerant, and is a favorite for many bee species.
Further Resources for Your Flower Cutting Garden
Workshops: I'm very excited to be hosting two flower workshops out at B-Side Farm this summer! These two-hour sessions will be split between a basic flower gardening component, and then a picking session as we roam through my fields with clippers, culminating in a design component where everyone will make a guided bouquet to take home. These two workshops are scheduled for July 12th and August 23rd. Space is limited – please email bsidefarm@gmail.com for registration details.
The Association of Specialty Cut Flower Growers – my favorite resource for all things flower- growing
Sarah Raven's website, Org, Growing for Market, and the NC State websites all have great information on many of the cut flower varieties mentioned in this post.