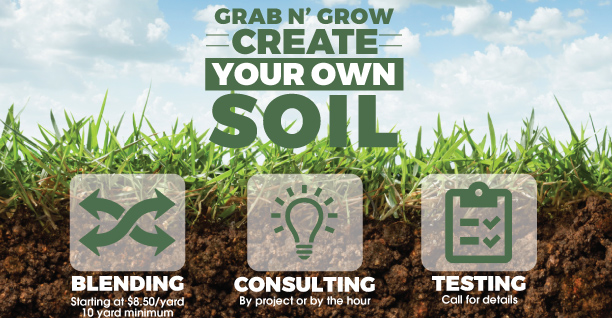 Grab N' Grow is proud to offer custom soil blending & formulation. Whether you have a unique "Family Recipe," need help formulating a mix, need help blending materials, or would just like more information about what ingredients work best, we're happy to help!  Use our extensive list of materials or bring us your ingredients to create your own custom soil blend.  Once we have a mix created we can perform lab analysis to provide insight into how the mix will perform.
Partial  list  of  ingredient  options:
Greensand
Gypsum
Lava Rock
Leonardite
LignaPeat®
Mustard Seed Meal
Oyster Shell
Perlite
Coco Coir
Pumice
Alfalfa Meal
Azomite
Blood Meal
Bone Meal
Seabird Guano
Vermicompost
Soft Rock Phosphate
Kelp Meal
Dolomite
Feather Meal
Peat Moss
Download PDF HERE
Please contact us at help@grabngrowsoil.com or call (707) 575-7275 for more information or to place an order.
All custom blend orders have a ten yard minimum.